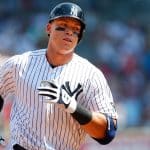 Yankees youth help contribute to hot start
Before the season began, many of the baseball experts knew about the Yankees young talent. But none could have imagined that they would blossom so soon. Most predicted that they were a year or two away from being legitimate contenders. But this young Yankee team refuses to listen to the doubters. With the well respected veteran manager Joe Giraldi at the controls, New York has rushed out to 24 wins in their first 38 games and be at the top of the American League eastern division ahead of both Baltimore and Boston. The youth movement is led by Aaron Judge and Gary Sanchez, but other young players have also contributed to the great start. Second Baseman Starlin Castro is off to a magnificent start with his .348 batting average and seven homers already. Didi Gregorious and fellow Yankee Aaron Hicks are both hitting over .300 and Hicks has already knocked out seven homers. But the big story of the young season has been the slugging of right fielder Aaron Judge. In only 36 games, he has banged out 14 home runs and 29 Runs batted in already and doesn't appear to be any signs of slowing down any time soon. At the start of the season all the talk was about catcher Gary Sanchez because of his showing in the 2016 season with 20 homers in playing in only 53 games. But Judge has stolen some of Sanchez's thunder while the catcher was hurt with his big numbers. Sanchez is back again from his injury and makes the Yankees even more dangerous. With alot of youth on the team, there always has to be veterans surrounding the youngsters to keep them grounded, giving them advice and helping them when they run into slumps. Veterans Brett Gardner, Jacoby Ellsbury, and Matt Holliday are all off the respectable starts and leading inside the clubhouse. The 2017 season looks bright for the Yankees with this bunch as long as the starting pitching can be stable and these young players stay out of prolonged slumps.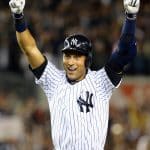 Derek Jeter is honored with the Retirement of his number 2
Yankees continue hot start as Derek Jeter is Honored
It didn't take very long for the Yankees to decide to recognize star shortstop Derek Jeter's brilliant career and retire his number 2. He was honored on Sunday May 14th and will also have a plaque set up in the legendary Monument Park. There are so many highlights to Jeter's incredible career that the decision to honor him was a no brainer. He finished his career with 3,465 hits, 260 homers and a .310 batting average. He was steady throughout his career and was very consistent during his stay with New York, which started in 1995 and ended in 2014. He was no stranger to the post season and is very well known for being clutch in both the regular and post seasons. He was involved with the playoffs 16 times and knocked out an incredible 200 hits with a .308 average. Other honors he had in his hall of fame worthy career included being named rookie of the year in 1996, winning the All star MVP in 2000 and then capping that off in 2000 claiming the World Series MVP. There will never again be another Derek Jeter and one of baseball's legends will be missed, but never forgotten as his number 2 is retired with all the other Yankee greats of the past.