Will it be the Same Old Detroit Lions in 2017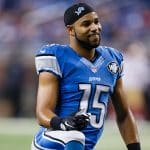 Many Familiar Faces are back again
Many familiar faces are back again, including team leader and star quarterback Matthew Stafford. When he has the right players around him, he has proven in the past he can win the close games. But that is the question, will they finally have a balanced enough squad to help him in key moments and limit their mistakes. In 2017, Stafford helped lead the Lions to many close games that were won by 5 points or less. Many of those victories were won on game ending drives, which was quite impressive. Back again this year is their top two leading receivers in Golden Tate and Marvin Jones. Tate had a very productive year catching 91 balls for 1,077 yards and should play a big part in their offense once again in 2017. Jones made some big plays last year having  a respectable 930 yards. But catching more than 55 passes like he did in 2016, would greatly increase his numbers and make the offense just that much better. Tight End Eric Ebron is back as well and had a career year with 61 catches and has shown improvement in other areas as well. The running game is once again, a huge question mark. Many fans were hoping to draft a top notch running back. That never happened. Instead the Lions decided to bring back most of last year's running core, hoping injuries would not play a big factor in 2017. The running game was horrid for a number of reasons as the leading rusher only accumulated 357 yards. Which quite frankly, is pathetic. Back are Ameer Abdullah, Theo Riddick and Zach Zenner. When in the line up, Abdullah is an explosive running back, but constant injuries has plagued his career. Riddick is a tremendous asset coming out of the backfield catching screens and making the defenses stay on their toes, but many consider him as just that, a third down back. And Zenner, even though he had a good showing last year, is still unproven and some question marks surrounding him. So, hopefully there will be no big injuries in the backfield this season and the running squad can show what they can really do this upcoming season. One key signing this year was the signing of guard T.J. Lang. It was a bonus in two ways. One, they got a great Guard and Two, they took him away from division rival Green Bay Packers.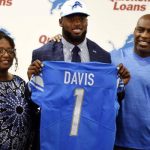 2017 Draft Lions Analysis
Many of the Expert Draft Analyists believed the Lions did an adequate job this year in their picks. Now was it a super draft? Only time will tell. But they did draft some positions that needed some help or upgrades. The Detroit Lions first pick of the 2017 draft was Florida Inside Linebacker Jarrad Davis. The Lions like his early leadership qualities and at some point they see him as the defensive play caller on the field after some experience in the field. Linebacker was definitely a position the Lions needed to fix and upgrade and it looks like Davis could help fix that problem. Detroit's second pick Was Teez Tabor, who was the 21st pick in the second round of the draft. He also is coming out of Florida as Davis is and is penciled in to play at cornerback. The secondary needed some help and Teez could definitely help with that. He had 4 interceptions at the University of Florida last year and coming out of a big program such as Florida always seems to help rookies entering the NFL. Barring injury, look for these young players to make a good impression on the coaching staff and the loyal fans of Detroit who are desperately looking to be the kings of the hill in 2017, winning the Super Bowl for the first time in franchise history.