New England Patriots Favored To Win 2017-2018 Super Bowl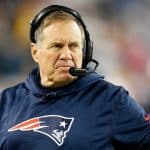 First Class Organization that knows how to do things the right way
In a league that every year a different team seems to make a good run in the playoffs, the Patriots always seem to know when to drop an aging player, when to sign a player who is looked at as being washed up, and how to draft and trade players for future draft picks. In short, they are the class of this generation's NFL and every player in the league wants to sign with them because they know they have a great chance in going to the promised land…..aka, the Super Bowl. There is one constant every season however that does not change. And that is Mr. Consistency Tom Brady. Every year all of the football experts say that we will see a huge drop off in his production in the upcoming season because of his age and every year he proves the experts wrong. This more than likely drives the future hall of famer's inside fire to do great things and produce well. One thing most people have finally learned now is to never underestimate the 5 time super bowl champion and 4 time super bowl MVP. Whenever the Patriots have Tom Brady leading the team, his teammates know they will be competing at a high level and will be in the playoff hunt. In 2016, he played in only 12 regular season games but still posted 3,554 yards, 28 touchdowns and only 2 interceptions. So he is showing no signs of slowing down. And with the front office making seemingly every transaction a smart one. There is no reason to believe the Patriots won't be in the thick of things once again this season.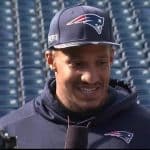 Key Moves made to help the team compete at a high level once again
This year New England did not have any first round or second round draft picks, but they did have a couple third round picks. With the 19th pick they chose Derek Rivers, an outside linebacker coming out of Youngstown State. They followed that pick by selecting offensive tackle Antonio Garcia from Troy. With all the veterans on the team, it seems like each year the young players have a high learning curve and perform relatively well fast. Will it be the same this season? Only time will tell, but at this point the fans trust everything the Patriots do. Another key addition to this year's team is the addition of former Buffalo Bill Stephon Gilmore. He's a very durable cornerback and had a career high 5 interceptions last year. He seems very pumped to finally to be able to play for a super bowl contender and look for him to play his heart out this year to get the chance to hold the super bowl trophy over his head on national television in front of millions of nfl fans. Former New York Jet David Harris was another player signed. He was cut from the rival Jets and within 2 weeks the Patriots signed him to a 2 year contract. He may have a chip on his shoulder after getting dumped by the Jets and that could benefit the Patriots . Harris is a linebacker and should fit in very well in the linebacker rotation.