Detroit Tigers Victor Martinez Up In The Air Anibal Sanchez On Mound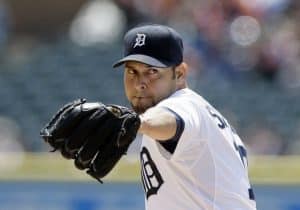 Click here to shop for your detroit tigers gear at detroit game gear.
GAME INFORMATION
Who: Detroit Tigers (23-16, 2nd in AL Central) vs. Milwaukee Brewers (14-25, 5th in NL Central)
When: 7:08 p.m.
Where: Comerica Park in Detroit
TV: Fox Sports Detroit
Radio: 97.1 The Ticket and the Detroit Tigers radio network
STARTING PITCHERS
Detroit Tigers
Anibal Sanchez (3-4, 4.76 ERA)
Lifetime vs. Milwaukee: 2-1, 5.30 ERA
Milwaukee Brewers
Jimmy Nelson (1-4, 4.22 ERA)
Lifetime vs. Tigers: Never faced Detroit
GAME NOTES
• After winning three of their previous four games, the Tigers have now lost two straight after a 3-2 loss to Milwaukee on Monday night. It was the first meeting between the two teams since 2009.
• Anibal Sanchez takes the mound for the first time since his best outing of the season, a one-run, five-hit performance in eight innings against the Minnesota Twins on Thursday, May 14. Sanchez, after starting the season 1-3 in his first five starts, has earned wins in two of his last three. He's 2-1 with a 5.30 ERA in seven career starts against Milwaukee.
• The status of Victor Martinez is up in the air, and we could know more before the game tonight. Martinez continues to battle a sore left knee and has 1 hit in his last 17 plate appearances. After sitting out most of the series against St. Louis — he came in to pinch hit on Sunday — he was 0-for-4 on Monday and came up limping after reaching for the bag in the eighth inning.
• Milwaukee starting pitcher Jimmy Nelson, in his third year in the Major Leagues, has never faced Detroit nor anyone in the Tigers lineup. He's 1-4 in seven starts this season for the Brewers, allowing 20 runs in 42 2/3 innings. In his last outing, on Wednesday, he allowed four runs on eight hits in 6 2/3 innings in a loss to the Chicago White Sox
• The Tigers stole three bases on Monday night and sit fourth in Major League Baseball with 35. They are second in the American League behind Houston (39) and eight behind the Cincinnati Reds.
• J.D. Martinez and Jose Iglesias each carry a nine-game hitting streak into Tuesday night's game. Martinez went 2-for-4 with a strikeout on Monday and Iglesias (1-for-3) singled on his last at-bat in the seventh.
• The forecast in Detroit calls for sunny and clear skies this evening, with temperatures in the mid to upper 50s.
PRE-GAME LINKS
Looking for some light reading between now and first pitch? Check out these stories from the past day or so on MLive.com:
• Tigers to promote Tyler Collins; move could land Victor Martinez on DL
• Victor Martinez wants 'whatever is best' for Tigers; doesn't rule out DL
• Watch key moments from Detroit's 3-2 loss vs. Milwaukee on Monday
• Kyle Lobstein pleased with outing Monday, but he can't get run support
• Video: Victor Martinez not opposed to going on DL
• Brewers 3, Tigers 2: Detroit strands 6 runners in scoring position in loss