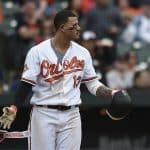 The Red Sox and Orioles throw dangerous pitches at each other 
Baltimore and Boston throw pitches at each other in heated series Rivals in Baseball's American League got into a war after one of each team's stars were both involved in a dangerous slide into second base. It all started on an innocent play on April 21st when Orioles All Star third baseman Manny Machado slid into Boston's second baseman Dustin Pedroia. The result of the play made Pedroia miss a couple of games and the Boston Red Sox obviously were not happy. On April 23rd things got heated when Boston's Eduardo Rodriguez tried three times to hit Machado and missed him each time. But it didn't end there. Red Sox pitcher Matt Barnes made one more attempt of hitting Machado and he also had no success. Barnes was successful however in gaining a suspension because of the incident. On Tuesday Boston's pitcher Chris Sale took his turn at Machado. He threw the pitch behind the Orioles star third  baseman, but the message was sent and things still obviously had not been forgotten by the Red Sox on the play way back on April 21 injuring Pedroia. Mookie Betts was hit on Monday by Orioles pitcher Dylan Bundy but it looked like it was accidental but in Boston's mind all had not been forgotten. On Wednesday Major League Baseball had had enough of the events that had been taking place that they had talked to the umpires and the umpires listened. The whole game was interesting and it started early on in the second inning. Orioles pitcher Kevin Gausman hit a Boston hitter and the home umpire quickly jumped in and immediately ejected the pitcher from the game. Orioles catcher Caleb Joseph was in disbelief and threw his mask at home plate in disgust. Buck Showalter ran out of the dugout to protect his players and to try not to let the event esculate in to more Baltimore ejections. Baltimore's catcher seemed upset because the hitter was hit by a slow curve ball and if Baltimore was truly trying to hurt the Red Sox hitter it seems that they would have thrown a fastball instead.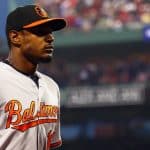 The Orioles Adam Jones hears racial slurs during Monday's game against the Red Sox
To make the night even more bizarre, Baltimore Orioles slugger Adam Jones was kicked out in the 5th inning after arguing balls and strikes by the home plate umpire. Jones was targeted by some Boston fans with racial slurs on Monday night and was extremely upset during and after the game and a lot of bad publicity came out of the scandal and made some Boston fans look extremely bad. Boston's faithful showed some class however the following night when they gave the Baltimore star a standing ovation when he stepped up to the plate. Also, before the game, principal owner of the Red Sox John Henry met with Jones expressing his apology and thanked the center fielder for speaking up. It has been an interesting series and the two teams square off many more times this season. The question is, will all of these distractions continue?