Astros are off and Running on top of the American League West
The Astros led by All Star second baseman Jose Altuve, are showing the American League that they are here to stay for contention for the American League pennant. Every team that wants to win their division needs a good mix of strong pitching and hitting. Currently Houston is third in the League in team batting average and Lead the A.L. in team earned run average. So they are solid in both departments. Houston is not in a large market like New York or Chicago so they do not get the media attention for their team and players like those teams do. So the average fan looks at the Astros roster and go, who is that guy? That could very well change though if things continue as they have and there are no signs of Houston fading from the playoff race.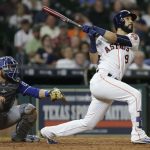 Astros Hitting
Many players are off to solid starts including, by no surprise, Jose Altuve. In only 45 games, he already has 51 hits and shows both power and speed. He's a small guy at 5 foot 6 inches, but that doesn't stop him from banging out 7 home runs in the early season and swiping 9 bases. In other words, he's a complete player in all categories. Little known left fielder Marwin Gonzalez is off to a good start leading the team in home runs with 10 and Runs Batted In with his 26. His career high in homers is 13, so chances are he will go way past that previous mark. Right fielder Josh Reddick and young shortstop Carlos Correa are both off to good, respectable starts each hitting 6 home runs and at the 20 plus RBI mark already. The team is also rock solid at the catching position with the addition of veteran Brian McCann behind the plate. He's already contributed with a solid .269 batting average and 25 Runs Batted In. Another player, despite his low current batting average, putting fear into the eyes of opposing pitchers is centerfielder George Springer. He's posted 9 homers with 24 RBI.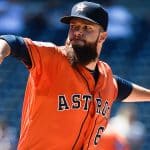 Astros Pitching
Dallas Keuchel is off to an incredible start. He's won 7 games already and has lost zero. He has a low earned run average at 1.84 and has only allowed 41 hits in 63 innings. Lance McCullers Jr. is the other starter off to a great start with his numbers. He's won 5 and has only lost one game. He's struck out 65 in 59 innings and has posted an era of 2.43 with his whip being only 1.04. Those 2 definitely have definitely led the starting pitching staff. Charlie Morton is off to a respectable start, but starters Mike Fiers and Joe Musgrove must lower their earned run averages and both only have 2 quality starts each. The bullpen is led by closer Ken Giles. He already has 12 saves and has been consistent. The Astros other set up men are very solid. Brad Peacock, Will Harris, Chris Devenski, and Tony Sipp are all entering games throwing nothing but darts. The bullpen is very strong and if Houston can get the bottom half of their starting rotation to be more consistent or add another quality arm, look for them to make noise in this year's playoffs.